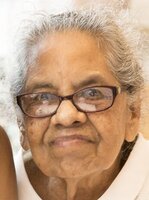 Bhagpattee Trilokie
Bhagpattee Trilokie was born in Essequibo, Guyana on November 29, 1925. She was a rice farmer, a wife, a mother, and a beloved grandmother and great-grandmother.
Mrs. Trilokie is survived by ten of her twelve children: Seenaught Trilokie (step, late), Kunaught (late), Galo, Basanti, Suerattie, Subhagee, Champa, Parbati, Radhika, Roopnaught, Jadnauth (late), Amarnaught, Seeta and many grandchildren, great-grand-children, and great-great-grand-children.
Mrs. Trilokie, or Maharajin, as she was known, was the wife of Pandit Ramnaught Maraj Trilokie (late) and was a widow for 41 years. Our Maharajin was a compassionate, kind, and loving person who spent her life wanting to give and make others happy. Her matriarchy persists in the hearts of the many lives she has touched.

Donations in her honour could be made out to Community Justice Initiatives, the STRIDE program to support women in prison and build informal networks of support that assist them as they reintegrate back into the community (https://cjiwr.com/donate-to-cji/) or to AMMA Canada, to support programs that help the disenfranchised in our communities through financial support, food, clothing & education (https://www.ammacanada.ca/how-to-give/), or the Doobay Dialysis Clinic in Guyana, where all patients are treated, mostly free of charge (https://vishnumandir.com/donate-to-the-dialysis-centre-in-guyana/).