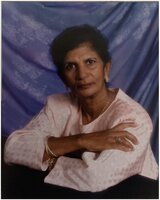 Dharamwutti Singh
On Tuesday January 3rd, 2023, Dharamwutti Singh, known lovingly as "Lilian", passed away at
the age of 87. Lilian was born in Golden Grove, Guyana on March 3rd, 1935 to Girdhari
Persaud and Kewlapati Persaud, and grew up among her many siblings: Bhudnie, Daiwantie,
and Kuldip, as well as the late Ghajadar, Chatetram, Harnarine, Reena, Leila, Ralph,
Takechand, and Richard, lovingly referred to as "baby". At age 17, she married Pooran Singh
and together they had six children, Chandra, an unnamed stillbirth boy, Jaio, Vijay, Raj and
Tony. Lilian earned a living working hard at the La Penitence market and with that, raised her
family. In 1979 she moved to Toronto, Ontario to start a new life with her children.
Lilian had a vocation for helping others. She surpassed her odds and enrolled at Centennial
college to study nursing in healthcare aid. She then worked at a nursing home for many years,
caring for the elderly. She is survived by her five children, sons and daughters-in law, Sam,
Lowell, Roulph, Kumar, and Sharon, as well as her grandchildren and great grandchildren, Neil,
Steve, Priya, Dev Anand, Maia, Seema, Serena, Dhilan, Dinesh, Suriya and Eshan.
The viewing will be held on January 6, 2023 from 6:00 pm to 9:00 pm. The funeral and
cremation will be held on January 7, 2023 from 3:00 pm to 5:00 pm.