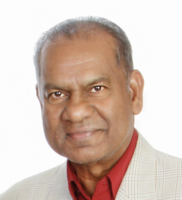 Gobin Durbal-Dass
Gobin Durbal Dass was born on November 27,1949 in Trinidad. He was the patriarch of the Dass family in Canada. He was a loving and devoted husband to Leela Durbal Dass; father to Joannie, Melissa and Shawn; grandfather to Jayden, Tyler, Selena, Liam, Ava and Jackson; father-in-law to Ravi, Christian and Angela and brother-in-law to Goura.
He was a dedicated City of Toronto employee for 30 years until his retirement in 2021. He was an entrepreneur, visionary and leader with multiple business associates across many decades.
He was a generous and supportive friend to both family and friends. He had a great sense of humour and style and touch many lives with his charm. He was a fantastic cook and gardener as anyone who came to our house would know. He was a true gentleman who always acted with class and he will always be remembered that way.
The void in our hearts will be filled by the wonderful and beautiful memories we have of him. You may be gone but you will never be forgotten.
Please kindly contact Joannie or Shawn for the zoom link. Thanks kindly.