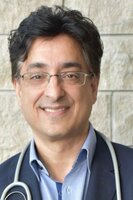 Anil "Monty" Kapoor
Dr. Anil (Monty) Kapoor died Feb 28, 2023. Anil was born in Montreal, Canada April 30, 1964. He was raised in Dartmouth, Nova Scotia, and completed his MD in 1991 at Dalhousie University. He specialized in Urology at the University of Manitoba and went on to complete a fellowship in Renal Transplantation and Renovascular Surgery at the world-renowned Cleveland Clinic.

He joined McMaster University and St. Joseph's Hospital in 1999 where he continued to work over the past 23 years. There, he had many "Firsts": He conducted the first laparoscopic renal donor transplant in Canada, and the first laparoscopic renal aneurysm repair in Canada. With his colleagues, he offered the first laparoscopic nephrectomy course in Canada. With the late Dr. Paul Whelan, and Dr. Kevin Piercey, he founded the first Postgraduate Urology Residency Program at McMaster University.

Dr. Kapoor shaped the future of Urology in Hamilton, Ontario and Canada through mentoring many trainees, and being a key player in introducing minimally invasive urologic surgery to many centres in Canada.

Dr. Kapoor was a leader in kidney cancer research with over 300 publications. He followed in his father's footsteps by achieving the rank of Full Professor at McMaster University.

Dr. Kapoor was a sought-after, internationally renowned speaker. His many Urologic colleagues will attest to the fact that he was a rare, technically gifted surgeon.

In spite of all his achievements, he remained humble, down-to-earth, personable, and empathetic.

Above all, he was a dedicated father to Akshay and Jeevan, mischievous and loyal son to Sudershan and the late Dr. Brij Kapoor, affectionate and devoted brother to Sunil and Vimal Kapoor, loving partner to Tiffany, and great friend to many.

He delighted in the company of friends and family, making people laugh, and lighting up the room with his larger than life personality. Anil's time with friends were a significant source of joy to him, including Arun, Mani, Raju, to name a few, but many, many others.

He enjoyed his hot sauces, achar, gol cuppas, aloo paratha, imili chutney tacos, exotic cars, music, travel, and stylish attire.

He will be sorely missed by his nephews, Ishaan and Kabir; nieces, Anisha and Ajouni; and his sisters-in-law, Angela and Seema; cousins, aunts, uncles, and many, many loving, caring friends.
In lieu of flowers, donations in Anil Kapoor's name can be made to www.kidneycancercanada.ca or www.colorectalcancercanada.com
This link will direct online visitors to the 'In Memoriam' page:
https://interland3.donorperfect.net/weblink/WebLink.aspx?name=E344126QE&id=22